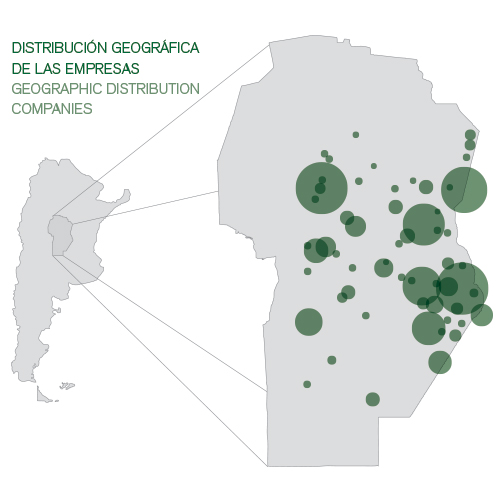 SECTOR
La provincia de Córdoba es una de las principales productoras de maquinaria agrícola y agrocomponentes de la Argentina. El sector aporta aproximadamente el 7,4% del valor agregado industrial de la Provincia, configurando uno de los segmentos más relevantes.
La mayoría de las empresas fabricantes de maquinaria agrícola y agropartes se localiza en el interior, principalmente en los departamentos San Justo, Marcos Juárez y Unión; cerca de los centros de mayor producción agropecuaria.
El 54% de las empresas son agropartistas, el 36% produce maquinaria agrícola y el 10% fabrica tanto maquinaria como agrocomponentes. Predominan las empresas familiares, de capitales nacionales.
Las plantas fabriles presentan diferentes superficies cubiertas y cuentan con tecnología de punta.
El 41% de empresas tiene entre 6 y 20 empleados, el 31% hasta 5 empleados, el 18% posee entre 21 y 50 empleados, el 5% entre 51 y 100 personas y el resto, más de 100. Córdoba explica cerca del 40%de los puestos de trabajo de la actividad a nivel nacional.
The province of Córdoba is one of the most important producer of agricultural machinery and agrocomponents of Argentina. The sector contributes approximately 7.4% of the industrial value added of the Province, forming one of the most important segments.
The majority of the companies that manufacture agricultural machinery and agroparts are located in the inland, mainly in the departments of San Justo, Marcos Juárez and Unión; near the centers of greater agricultura production. 
54% of the companies manufacture agroparts, 36% produce agricultural machinery and 10% manufacture both machinery and agrocomponents. Family businesses dominate, with national capitals.
The manufacturing plants have different covered surfaces and have cutting-edge technology.
41% of companies have between 6 and 20 employees, 31% up to 5 employees, 18% have between 21 and 50 employees, 5% between 51 and 100 people and the rest, more than 100. Córdoba explains for about 40% of jobs in the activity nacionwide.
Durante 2022 el empleo, las inversiones y la producción del sector siguieron en buenos niveles aunque por razones climáticas y coyunturales se empezó a ver una merma en el nivel de ventas hacia fin de año.
La producción industrial incluye todos los segmentos: sembradoras, tractores, cosechadoras, acoplados, cabezales de cosecha, pulverizadoras, tolvas, fertilizadoras, enfardadoras, rotoenfardadoras, mixers, equipos de labranza, agropartes metálicas y electrónicas, entre otros rubros.
During 2022, employment, investment and production in the sector continued at good levels, although for climatic and circumstancial reasons the leve lof sales began to drop towards the end of the year. 
The industrial production includes all segments: seeders, tractors, harvesters, trailers, harvest heads, sprayers, hoppers, fertilizers, balers, rotary balers, mixers, tillage equipment, metal and electronic agro parts, among other ítems.
Córdoba aporta alrededor de 30% de las exportaciones de maquinarias y agrocomponentes de Argentina. Las principales compañías del sector cuentan con una larga trayectoria en comercio exterior. Actualmente, las máquinas se exportan a los cinco continentes.
Córdoba contributes around 30% of the exports of machinery and agro parts of Argentina. The main companies in the sector have a broad experience in foreing trade. Currently, the machines are exported to five continents.