MAINERO
Perfil
CARLOS MAINERO Y CIA S.A.I.C.F.I. es una compañía nacida en Bell Ville, fundada en 1933. Es una de las mayores fábricas en Argentina de equipos para el agro, con una extensa línea de productos para cosecha, reserva y distribución de forrajes, preparación de piensos para animales, cabezales para la cosecha de granos, tolvas autodescargables, embolsadoras y extractores de granos.
MAINERO se basa en la innovación como filosofía que impulsa el pensamiento, la creación y la superación en cada producto que entrega a sus clientes. La calidad como constante, hacer las cosas bien desde el principio y mejorarlas continuamente. La trayectoria, simplificando y volviendo más eficiente cada uno de los procesos en la ganadería, agricultura y lechería, aquí y en el mundo.
Cuenta con una extensa red de concesionarios que aseguran respuesta, atención y buenos negocios.
Con distribuidores en los cinco continentes, exporta a la Comunidad Europea, Australia y Nueva Zelanda, Sudáfrica, Latinoamérica, Estados Unidos y Canadá.
Profile
CARLOS MAINERO Y CIA S.A.I.C.F.I. is a company born in Bell Ville, founded in 1933. It is one of the largest factories in Argentina of equipment for agriculture, with an extensive line of products for harvesting, reserve and distribution of forages, preparation of feed for animals, grain harvesting heads, self-unloading hoppers, baggers and grain extractors.
MAINERO is based on innovation as a philosophy that promotes thought, creation and improvement in each product that it delivers to its clients. Quality as a constant, doing things right from the beginning and improving them continuously. The trajectory, simplifying and making more efficient each of the processes in livestock, agriculture and dairy, here and in the world.
It has an extensive network of dealers that ensure response, attention and good business.
With distributors in the five continents, exports to the European Community, Australia and New Zealand, South Africa, Latin America, the United States and Canada.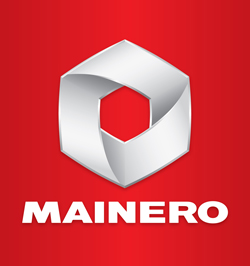 Datos de contacto / Contact
Dirección/Address
Rivadavia 259
Código Postal/ Zid Code
X2550DZE
Ciudad/City
Bell Ville
Provincia/Province
Córdoba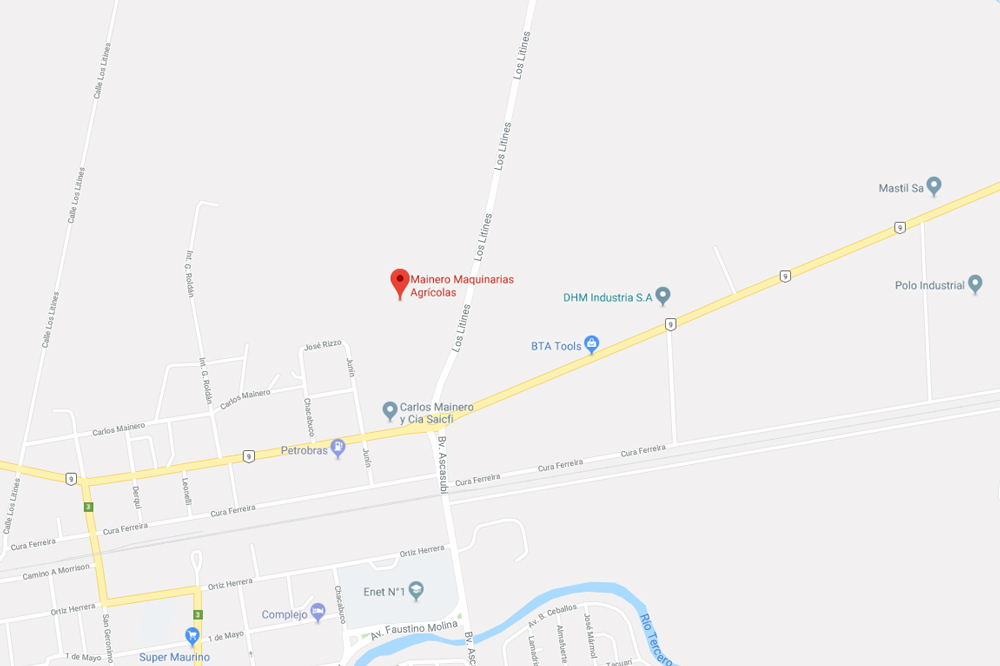 Telefax/Phone
+ 54 3537 42-4031
E-mail
Web 
Cabezales para maíz
Cabezales para girasol
Rotoenfardadoras
Enfardadoras
Mezcladoras de raciones
Cortadoras y segadoras acndicionadoras
Embolsadoras de granos secos
Extractores de granos
Tolvas autoescargables
Main products
Corn headers

Sunflower headers

Round balers

Square balers

Mixer /feeders

Cutters and mowers conditioners

Dry grain bagger

Grain extractor

Self-unloading hoppers
Cortadora hileradora de forrajes
NCM 8433.20.90.000E
Segadora acondicionadora de arrastre
NCM 8433.20.90.000E
Rastrillo de ruedas dentadas
NCM 8433.30.00.000F
Enfardadora de fardos prismáticos
NCM 8433.40.00.000V
Rotoenfardadora de fardos redondos
NCM 8433.40.00.000V
Cargador de rollos de forrajes
NCM 8716.20.00.900Z
Cosechadora picadora de forrajes
NCM 8433.51.00.900V
Distribuidor mecánico de forrajes
NCM 8716.20.00.900Z
Molino a martillos
NCM 8436.10.00.000H
Mezclador distribuidor de raciones (Mixer)
NCM 8436.10.00.000H
Cabezal recolector de maíz aplicable a cosechadoras
NCM 8433.59.90.990H
Cabezal recolector de girasol aplicable a cosechadoras
NCM 8433.59.90.990H
Embolsadora de granos
NCM 8422.30.21.000U
Extractor de granos secos
NCM 8436.80.00.999E
Tolva autodescargable de granos
NCM 8716.20.00.900Z
Forage windrower
NCM 8433.20.90.000E
Tractor mower conditioner
NCM 8433.20.90.000E
Rotary rakes
NCM 8433.30.00.000F
Prismatic bale wrapper
NCM 8433.40.00.000V
Round baler with round bales
NCM 8433.40.00.000V
Forage rolls loader
NCM 8716.20.00.900Z
Forage chopper harvester
NCM 8433.51.00.900V
Mechanical forage distributor
NCM 8716.20.00.900Z
Hammer mill
NCM 8436.10.00.000H
Rations distributor mixer
NCM 8436.10.00.000H
Corn harvester head applicable to harvesters
NCM 8433.59.90.990H
Sunflower harvester head applicable to harvesters
NCM 8433.59.90.990H
Grain bagger
NCM 8422.30.21.000U
Dry grain extractor
NCM 8436.80.00.999E
Self-unloading grain hopper
NCM 8716.20.00.900Z
CERTIFICACIONES/ CERTIFICATIONS