CEMENTADOS JUAN NADALIN
Perfil
CEMENTADOS JUAN NADALIN E HIJOS S.A. es una empresa de Río Tercero, dedicada al cementado en máquinas agrícolas.
También desarrolló e incorporó nuevos productos y tecnologías basadas en tratamientos especiales.
El trabajo de la empresa está destinado a proteger la cosechadora o autodescargable de la abrasión del cereal con materiales de excelente calidad, evitando así frecuentes desarmes, brindándole al cliente el mejor trato comercial.
Profile
CEMENTADOS JUAN NADALIN E HIJOS S.A. is a company from Río Tercero, dedicated to cementing agricultural machines.
He also developed and incorporated new products and technologies based on special treatments.

The work of the company is designed to protect the harvester or self-unloading of the abrasion of the cereal with excellent quality materials, thus avoiding frequent disarmament giving the customer the best commercial deal.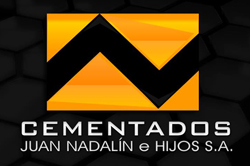 Datos de contacto / Contact
Dirección/Address
Santa Rosa 580
Código Postal/Zip Code
5850
Ciudad/ City
Río Tercero
Provincia/Province
Córdoba, Argentina