SYRA
Perfil
SYRA S.A. es una empresa de Noetinger, cuyos orígenes se remontan a 1972. Actualmente es una de las empresas más importantes en el mercado argentino de fertilizadoras y esparcidoras orgánicas.
También fabrica accesorios para equipos de cosecha como picadores de paja, esparcidores de paja y granza, guinches para Big Bag y unificadoras de andana.
Exporta a Uruguay, Paraguay, Bolivia, Brasil, Sudáfrica y Australia entre otros mercados.
Profile
SYRA SA is a company from Noetinger, whose origins date back to 1972. It is currently one of the most important companies in the Argentine market organic fertilizing and spreaders.
It also manufactures accessories for harvesting equipment such as straw choppers, straw and chaff spreaders, winches for Big Bag and unifying windrow.
Export to Uruguay, Paraguay, Bolivia, Brazil, South Africa and Australia, among other markets.

Datos de contacto / Contact
Dirección/Address
Garibaldi 371
Código Postal/ Zid Code
X 2563
Ciudad/City
Noetinger
Provincia/Province
Córdoba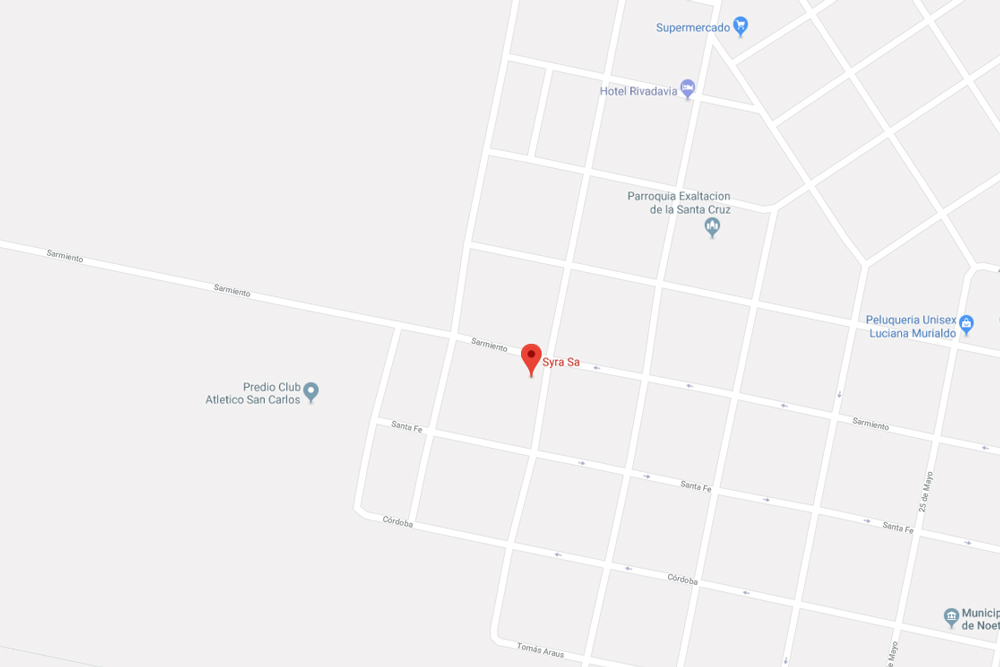 Telefax/Phone
+54 3472 47-0438/221/744
Whatsapp
+54 9 3572 589-384
E-mail
Web 
Principales productos
Fertilizadoras
Esparcidoras orgánicas
Esparcidores de paja y granza para cosechadoras
Picadores de paja para cosechadoras
Unificadora de andanas
Guinches
Desmalezadoras
Main products
Fertilizers

Organic spreaders

Straw and granza spreaders for harvesters

Straw choppers for harvesters

Swather machine

Hydraulic crane

Weeders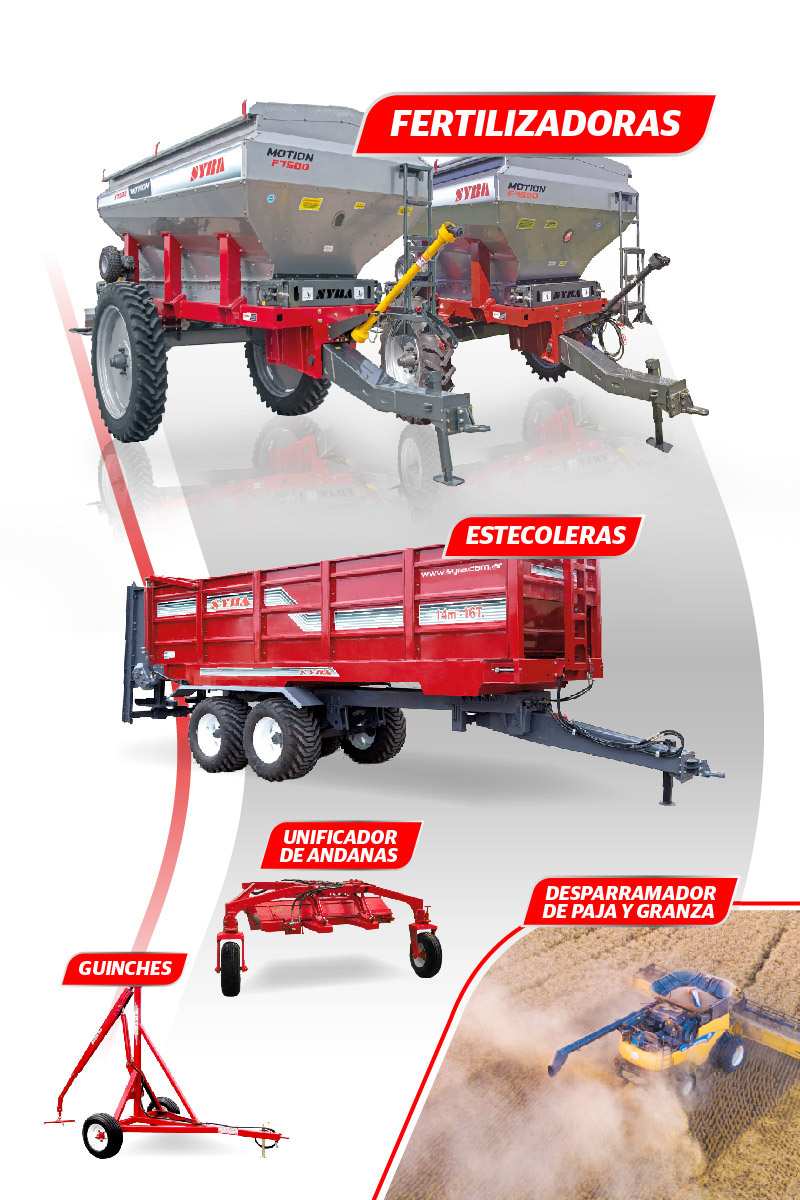 Exporta
Desparramadores de paja y granza
NCM 84.33.20.90.000
Fertilizadoras de arrastre
NCM 84.32.42.00.900
Unificadoras de andanas
NCM 84.33.20.90.000
Guinches
NCM 84.26.99.00.000
Desmalezadoras
NCM 8433.20.90
Exports
Straw and chaff spreaders
NCM 84.33.20.90.000
Fertilizer trailer
NCM 84.32.42.00.900
Unifying windrow
NCM 84.33.20.90.000
Hydraulic crane
NCM 84.26.99.00.000