METALBERT
Perfil
METALBERT S.R.L. es una empresa metalúrgica ubicada en la localidad de La Francia, dedicada a la fabricación de implementos agrícolas y viales de gran calidad, innovadora y vanguardista. Fue fundada por Ricardo Bertea, primer tornero de oficio que hubo en el pueblo en el año 1957.
Comercializa sus productos en gran parte del territorio nacional.
Profile
METALBERT S.R.L. is a metallurgical company located in the town of La Francia, dedicated to the manufacture of agricultural implements and high quality, innovative and avant-garde roads. It was founded by Ricardo Bertea, the first professional turner that was in town in 1957.
It markets its products in a large part of the national territory.


Datos de contacto / Contact
Dirección/Address
Güiraldes 575
Código Postal/Zip Code
2426
Ciudad/ City
La Francia
Provincia/Province
Córdoba, Argentina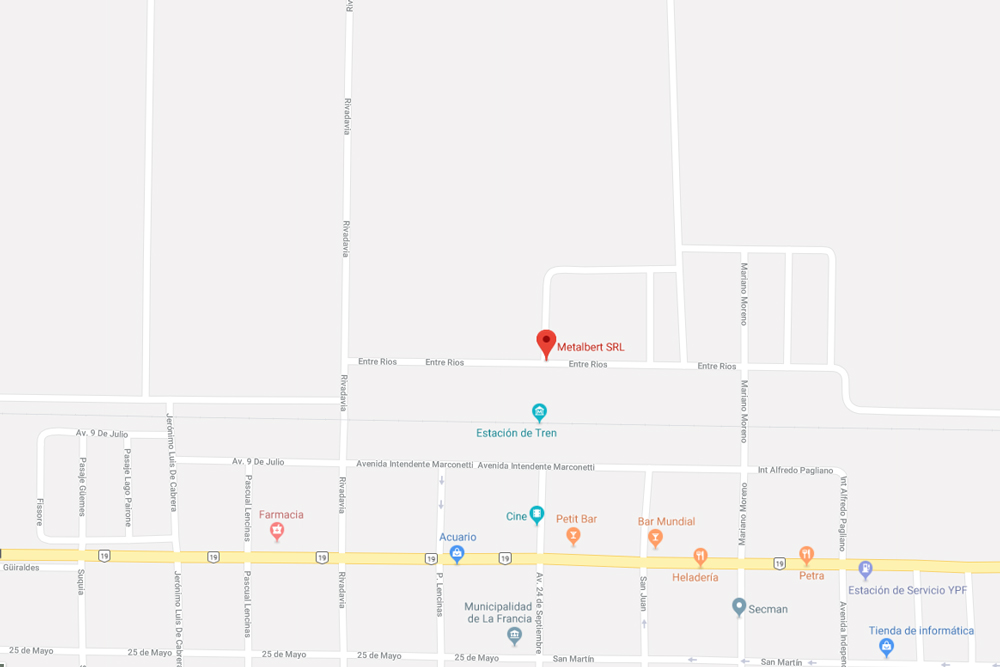 Telefax/Phone
+54 3564 47-1049
+54 3564 59-1123
E-mail
Web
Desmalezadoras de arrastre y tres puntos; tiro central y tiro lateral
Embolsadoras y extractoras de silo bolsa
Rastrillos entrega lateral y en "V"
Palas hidráulicas de arrastre y frontales
Elevadores y transportadores de rollos
Balanzones hidráulicos de 2 y 4 ruedas
Main products
3 point hitch weeder, central point and side point  Grain baggers and extractors for silos

Side rake and «V» rake

Front end loaders

Elevators and conveyors of rolls

Hydraulic flex harrows