ESTABLECIMIENTOS METALÚRGICOS ONCATIVO
Perfil
ESTABLECIMIENTOS METALÚRGICOS ONCATIVO S.A. es una empresa de Oncativo, fundada en 1938. Es una de las proveedoras más importantes de partes y piezas para el agro de Argentina. Abastece a las principales fabricantes de maquinaria agrícola del país. Exporta a Estados Unidos, Australia, Nueva Zelanda, Brasil, Paraguay, México, Uruguay y Chile entre otros destinos.
Con más de 80 años de trayectoria, la empresa sigue innovando e incorporando tecnología de última generación al proceso productivo.
Profile
ESTABLECIMIENTOS METALÚRGICOS ONCATIVO S.A. is a company of Oncativo, founded in 1938. It is one of the most important suppliers of parts and pieces for agriculture in Argentina. It supplies the main agricultural machinery manufacturers in the country. Export to the United States, Australia, New Zealand, Brazil, Paraguay, Mexico, Uruguay and Chile among other destinations.
With more than 80 years of experience, the company continues to innovate and incorporate the latest technology in the production process.

Datos de contacto / Contact
Dirección/Address
Bartolomé Mitre 749
Código Postal/Zip Code
5986
Ciudad/ City
Oncativo
Provincia/Province
Córdoba, Argentina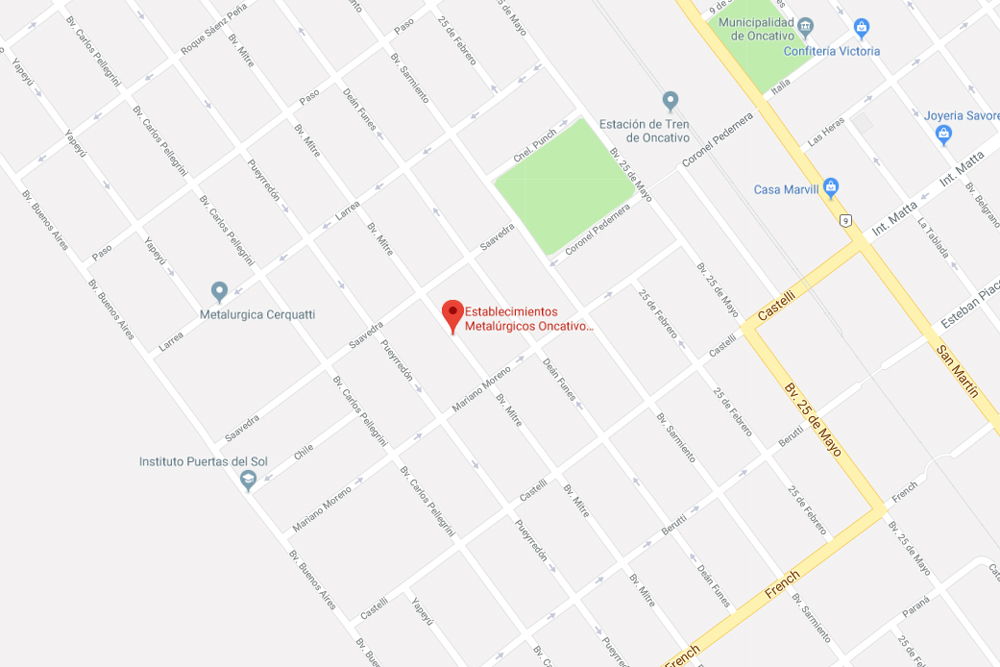 Discos para siembra directa
Discos para siembra convencional
Discos para labranza
Agropartes para labranza cero
Agropartes para labranza convencional
Agropartes para fruti, horti y viticultura
Agropartes para manejo de forrajes
Agropartes para cosecha, caña de azúcar
Agropartes para movimiento de tierras
Main products
Disks for direct seeding

Disks for conventional sowing

Disks for tillage

Agro parts for zero tillage

Agro parts for conventional tillage

Agro parts for fruits and vegetables grower

Agro parts for handling forages

Agro parts for harvest, sugar cane

Agro parts for earthmoving

Exporta
Agropartes
NCM 84.32.90.00
Exports
Agro parts


NCM 84.32.90.00
CERTIFICACIONES/ CERTIFICATIONS