DANTE SERRA
Perfil
DANTE SERRA S.R.L. es una empresa de Monte Buey, fundada en 1954, dedicada a brindar asistencia en reparaciones de la maquinaria agrícola. A principios de los 70 comenzó a fabricar aros giratorios, producto clave en la dirección de un implemento traccionado.
En la búsqueda de innovación y desarrollo, surgió a principios de los años 80 un sistema de fabricación inédito en el mercado, consolidándose así los productos que hacen a la razón de ser de la empresa: los aros giratorios en acero laminado.
Cuenta con certificación ISO 9001:2008, homologación de soldaduras y certificación apta para LCM.
Profile
DANTE SERRA S.R.L. is a company from Monte Buey, founded in 1954, dedicated to assist in the repair of agricultural machinery. At the beginning of the 70s he began to manufacture turntable rings, a key product in the direction of a tractioned implement.
In the search of innovation and development, arose at the beginning of the 80s an unprecedented manufacturing system in the market, thus consolidating the products that make the company's raison for being: turntable rings in rolled steel.
It has ISO 9001: 2008 certification, weld certification and certification for LCM.


Datos de contacto / Contact
Dirección/Address
Ruta Provincial Nº6 km 201
Código Postal/Zip Code
2589
Ciudad/ City
Monte Buey
Provincia/Province
Córdoba, Argentina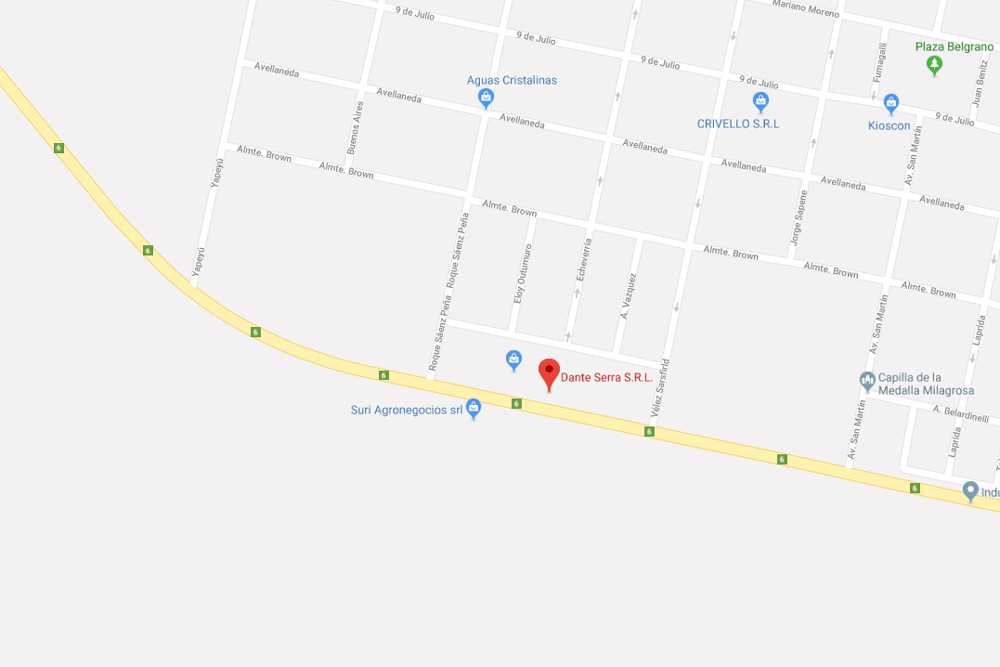 Aros giratorios en acero laminado. Las nueve medidas cubren las aplicaciones desde acoplados de 3 TT de carga hasta acoplados o tolvas de gran porte.
Main products
Rolled steel turntable rings. The nine measures cover the applications from 3-TT trailer trailers to large trailers or hoppers.

Exporta
Aros giratorios en acero laminado
NCM 8716.90.90.900L
Exports
Rolled steel rotating rings
NCM 8716.90.90.900L

CERTIFICACIONES/ CERTIFICATIONS