INDUSTRIAS COMOFRA
Perfil
INDUSTRIAS COMOFRA S.R.L. es una empresa de Monte Buey, dedicada a la fabricación de implementos agrícolas, con más de 60 años de trayectoria en el mercado nacional e internacional, con una amplia red de concesionarios. La fábrica cuenta con una infraestructura de más de 9.000 m2. cubiertos, inserta en un predio de 30.000 m2.
La confianza está dada en la calidad de sus productos, lograda a través de años, permaneciendo a la vanguardia, acorde a necesidades de un mercado altamente exigente, certificando todos sus procesos bajo los estrictos controles de la norma IRAM-ISO-9001:2008.
Profile
INDUSTRIAS COMOFRA S.R.L. is a company fron Monte Buey, dedicated to the manufacture of agricultural implements, with more than 60 years of experience in the national and international market, with a wide dealer network. The factory has an infrastructure of more than 9,000 m2. covered, inserted in an area of 30,000 m2.
The confidence is given in the quality of its products, achieved through years, remaining at the forefront, according to the needs of a highly demanding market. Certifying all its processes under the strict controls of the IRAM-ISO-9001: 2008 standard.

Datos de contacto / Contact
Dirección/Address
Ruta Provincial Nº 6
Código Postal/Zip Code
2589
Ciudad/ City
Monte Buey
Provincia/Province
Córdoba, Argentina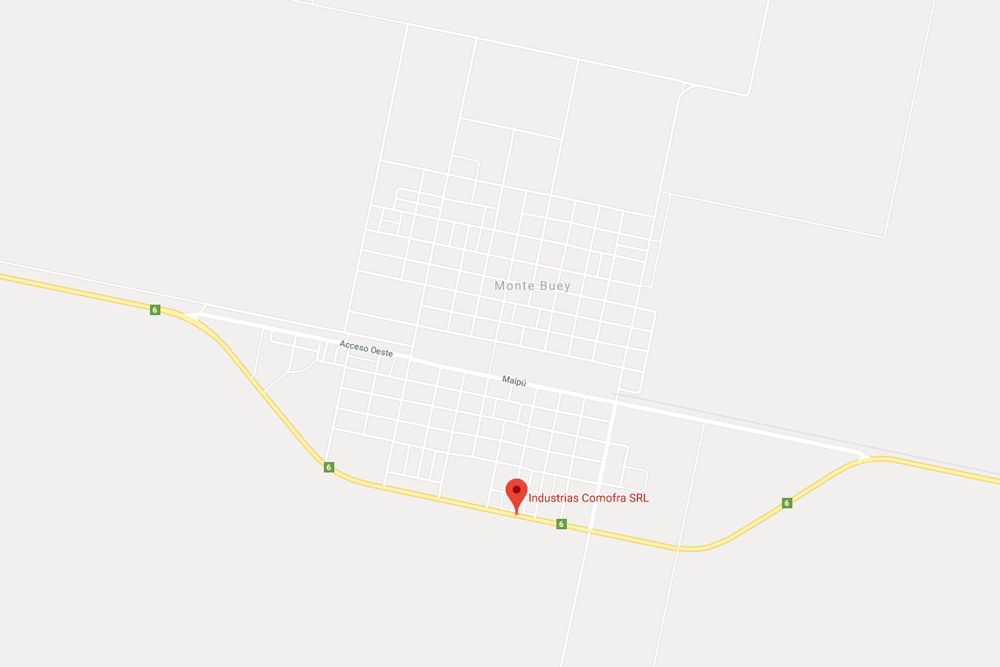 Acoplados tolvas autodescargales en 1 y 2 ejes de 17.500 a 45.000 litros
Mezcladores y distribuidores de raciones (Mixer horizontales) de 4 A 16 m3
Desmenizadores, mezcladores y distribuidores de raciones (Mixer verticales) de 10 y 25 m3
Acoplados tolva para semillas y fertilizantes a granel de 11.000 a 25.000 litros
Main products
1 and 2 axles self-unloading hoppers from 17,500 to 45,000 liters.

Mixers and rations distributors (Horizontal mixers) of 4 to 16 m3.

Shredders, mixers and rations distributors (Vertical mixers) of 10 and 25 m3.

Hopper for seeds and bulk fertilizers from 11,000 to 25,000 liters.

Exporta
Acoplados tolvas autodescargable
NCM 87.1620.00
Mezcladores y distribuidores de raciones (Mixers horizontales)
NCM 84.3610.00
Desmenuzadores, mezcladores y distribuidores de raciones (Mixers verticales)
NCM 84.3610.00
Acoplados tolva para semillas y fertilizantes a granel
NCM 87.1620.00
Exports 
Self-unloading hoppers
NCM 87.1620.00
Mixers and rations distributors (Horizontal mixers)
NCM 84.3610.00
Shredders, mixers and rations distributors (Vertical mixers)
NCM 84.3610.00
Hopper for seeds and bulk fertilizers
NCM 87.1620.00

CERTIFICACIONES/ CERTIFICATIONS