MOLINOS BAUDO
Perfil
NATALIO BAUDO E HIJOS S.R.L. es una empresa familiar de Sacanta, con 75 años de ininterrumpida trayectoria en el rubro de la agroindustria, dirigida por la tercera generación.
Con experiencia en otras ramas de la metalúrgica, como la automatización de plantas de fundición, decidió servir al hombre de campo. Actualmente fabrica cinco modelos de molinos, una línea de agropartes para implementos agrícolas, con más de 100 productos, y repuestos.
Cuenta con tres plantas, divididas a su vez en cinco secciones. Emplea a 36 personas entre operarios y administrativos.
Profile
NATALIO BAUDO E HIJOS S.R.L. is a family business from Sacanta, with 75 years of uninterrupted trajectory in the agribusiness sector, led by the third generation.
With experience in other branches of metallurgy, such as foundry plant automation, he decided to serve the man of the countryside. It currently manufactures five models of mills, a line of agroparts for agricultural implements, with more than 100 products, and spare parts.
It has three plants, divided into five sections. It employs 36 people between operators and administrative staff.


Datos de contacto / Contact
Dirección/Address
25 de Mayo y Belgrano
Código Postal/Zip Code
5945
Ciudad/ City
Sacanta
Provincia/Province
Córdoba, Argentina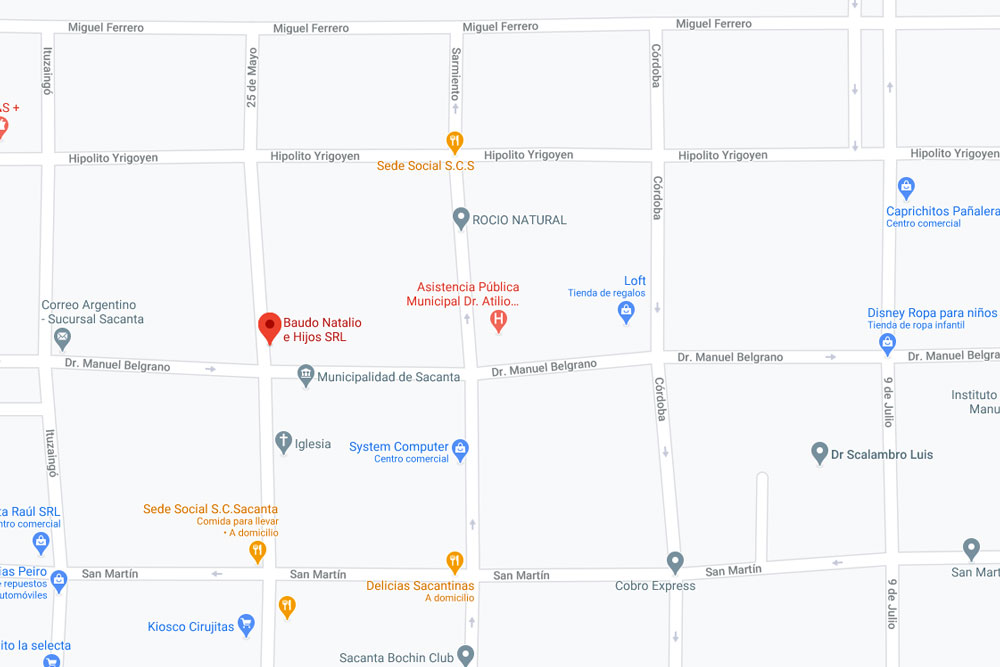 Telefax/Phone
+54 3533 49-2187
Whatsapp
E-mail
Web
Máquina sola sin cola y sin rueda de 8, 9, 11 y 13 pies
Máquina completa con cola y rueda de 8, 9, 11 y 13 pies
Torres. Máquinas de 8 y 9 pies de 4,5, 6, 7,5, 12 y 15 metros
Torres. Máquinas de 11 pies de 6, 7,50, 9, 12, 15 y 18 metros
Torres. Máquinas de 13 pies de 7,50, 9, 12 y 15 metros
Torres. Máquinas de 16 pies de 7,50, 9, 12 y 15 metros
Ruedas y colas completas de cada una de las máquinas y todos los repuestos por individual
Agropartes: mazas, mazas especiales, bancadas, fin de paquete, bridas y bisagras
Main products
8 ', 9', 11 'and 13' wheelless, no vane, single machine

8′, 9′, 11′ complete machine, with vane and wind wheel

Towers. 8 and 9 feet machines, of 4.5, 6, 7.5. 12 and 15 meters

Towers. 11 feet machines, of 6, 7.50, 9. 12. 15 and 18 meters

Towers. 13 feet machines, of 7.50, 8, 12 and 15 meters

Towers, 16 feet machines, of 7.50, 9, 12 and 15 meters

Complete wind wheels and vanes for each machines and all the spare parts individualy

Agroparts, hubs, special hubs, engine mounts, pulley end, flages and hinches